Much of the British bus network was in public ownership until the 1986 deregulation of bus services in England, Scotland and Wales. This allowed any accredited operator merely to provide 56 days' notice to the Traffic Commissioner of their intention to commence, cease or alter operation on a route.

Almost immediately existing operators faced competition on their most profitable routes, both from new and existing operators, and other municipal operators seeking to increase revenue. This would often result in the incumbent operator retaliating by starting up operations on the new operator's home turf. Tactics included cutting fares and operating extra services.

Only 12 operations now remain in public ownership, the largest being Lothian Buses in Edinburgh.

As of 2010 the big five operators, Arriva, First, Go-Ahead, National Express and Stagecoach, controlled 70% of the market. 24% of operators were then in foreign ownership and this figure has since increased.

The major exemption from total deregulation was London Buses which became a set of private operations specified and tendered by Transport for London (TfL).
The Bus Wars

Intense but unfair competition sometimes required the intervention of the competition authorities to stamp out unsafe or unscrupulous practices - usually abuse of their locally dominant position.

In 1988 Southern Vectis became the first operator to attract the interest of the regulators when the Office of Fair Trading forced it to allow competing operators access to Newport bus station. It was also reprimanded for operating extra services purely to stifle its competition.

In 2000 Stagecoach Manchester was found to have been employing bus inspectors to usher passengers away from competitors' services.

In 2004/05 Cardiff Bus was found to have engaged in predatory behaviour to stifle competitor 2 Travel.

In 2006/07 Stagecoach Manchester and UK North engaged in a bus war on route 192 and on the Wilmslow Road bus corridor that caused traffic chaos in Manchester. 
In the same year, UK North were found to have been engaging in unsafe work practices. Two of their managers were jailed.

In November 2009 the Competition Commission ordered Stagecoach to sell Preston Bus after it had adversely affected competition in the area forcing Preston Bus.
The Result:-
Deregulation and privatisation did not halt the decline in bus travel in the UK. There are now only half as many passenger journeys on local bus services outside London as before. But journeys in still TfL-regulated London have doubled, leading to an overall increase . The red mark in the left hand chart indicates 1986 when deregulation occurred.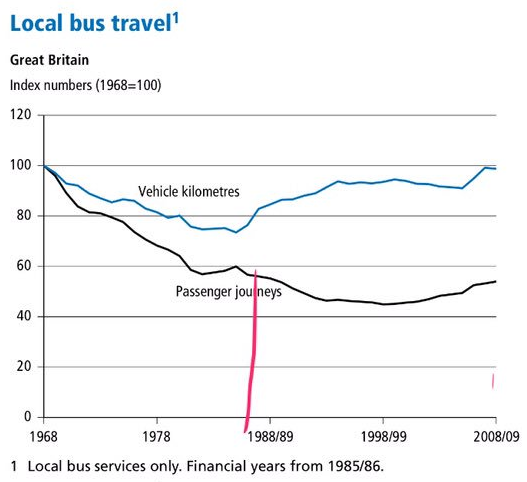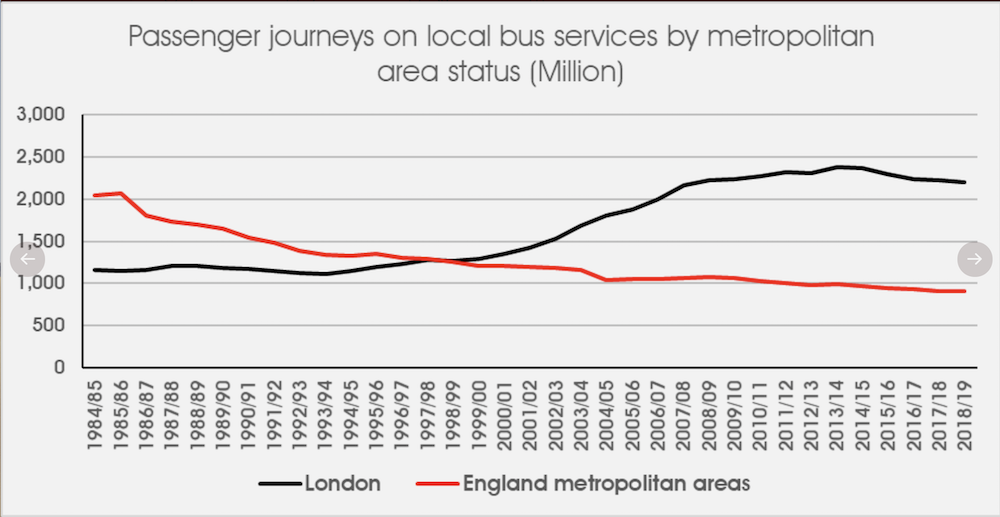 There was an interesting development in 2017 when the new Bus Services Act gave Ministers the power to compel private operators to release data relating to fares, punctuality and real-time location, thus giving potential competitors much of the information they would need to introduce new services when and where they would be welcome. It will be interesting to see if the power is used, and achieves its objective.
In the meantime bus services did appear pretty profitable, especially compared with rail.