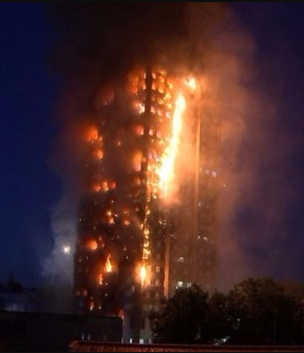 The Grenfell Tower fire began shortly before 0100 on Wednesday 14 June 2017, and killed around 80 people. It quickly became clear that the fire had (surprisingly and unusually) spread quickly from apartment to apartment via cladding on the outside of the building. Questions were therefore immediately asked about
whether risks were taken in the procurement of the cladding - in particular to save money?
whether there had been other unnecessary risks taken in the recent refurbishment of the building? and ...
whether there had been regulatory failings - in drafting (or failing to revise) building regulations, or in materials testing, or in local authority etc. approvals and inspection?
It is as yet far too soon to begin to answer any of these questions but I do have a number of early thoughts, as follows:
Systemic, Cultural and Leadership Issues
The government has established a formal public inquiry into the disaster, chaired by Sir Martin Moore-Bick. It has very wide terms of reference:- To examine the circumstances surrounding the fire at Grenfell Tower on 14 June 2017, including [various issues but not excluding anything] and ... To report its findings to the Prime Minister as soon as possible and to make recommendations.
It has also established an Independent Review of Building Regulations and Fire Safety chaired by Dame Judith Hackitt, whose terms of reference are much more detailed.
But it is not yet clear whether either inquiry will avoid the temptation to identify human error as the cause of the tragedy.  Human error is merely symptomatic of trouble deeper inside the system.  It is of course necessary to try to find where people went wrong, but even more important to find how people's assessments and actions made sense at the time, given the circumstances that surrounded them.
Indeed, one of the most sensible public comments was made less than 48 hours later by Gill Kernick, a professional involved in helping companies avoid devastating accidents in high risk industries. Gill had previously lived in Grenfell Tower and now lived in a nearby tower block. A transcript of the second part of her interview is below, and Gill subsequently summarised her views in a blog published by Policy@Manchester.
A short summary of that blog is as follows:-
The Need for a Systems-Based Approach


The reaction to major accidents is often that they could not have been foreseen; that the nature of 'low probability' events somehow means we can't prevent them. But it is now well understood that a major accident is not the result of a single event; it is a systemic outcome resulting from several latent (pre-existing and often hidden) conditions, usually triggered by an active failure (current failure e.g. human error or an ignition source) aligning at a moment in time that leads to horrific consequences.


One of the most effective ways of avoiding major accidents is therefore to deploy what is often referred to as mindful leadership or chronic unease; that is looking to imagine and fear the worst thing that could go wrong. Indeed, when these horrendous events do happen, there has too often been a shocking failure to learn. For example, in the Texas City disaster, almost every aspect of what went wrong had gone wrong before, either at Texas City or elsewhere.  There may have been a similar learning disability around Grenfell: how is it that little notice appears to have been taken of cladding fires on high rise buildings in France, the UAE and Australia?

Indeed, most inquiries into previous major incidents have uncovered many instances of policies and procedures that are outdated, inaccurate and contradictory. Holding the view that 'policies and procedures' keep us safe, and the problem is the person or operator that didn't follow them, is far too simplistic and will not lead to understanding deeper systemic issues.  It is instead vital to understand the underlying drivers of behaviour including reward and measurement structures (both formal and practised). In Texas City, for instance, incentives were focussed around financial performance with some incentive around personal safety metrics. Attention to process safety or the prevention of major accidents was not encouraged through organisational reward and measurement structures.


It will also be necessary for the Grenfell Inquiries to consider leadership and cultural issues. Indications from residents (both prior to and in the response to the incident) suggest that there may have been a transactional, one-way leadership style that did not welcome or fully understand the views and concerns of residents.


To summarise, it would be a grave mistake to identify human error as the cause of the tragedy.  Human error is symptomatic of trouble deeper inside the system.  It is of course necessary to try to find where people went wrong, but even more important to find how people's assessments and actions made sense at the time, given the circumstances that surrounded them.


Will the Inquiries' Recommendations be Implemented?


Unless particular care is taken, even the best recommendations will not ensure learning. Typically, only around half of the recommendations made by a formal Inquiry will be implemented. In many cases the corrective actions will either not be taken or will not have the impact intended. One recent example is that the strengthening work recommended as a result of the collapse of Ronan Point in Newham (1968, killing four people) was never carried out at Ledbury Towers, South London. But the Cullen Report into Piper Alpha did lead to lasting systemic change. All the 106 recommendations made were accepted. Lord Cullen said: "The industry suffered an enormous shock with this inquiry, it was the worst possible, imaginable thing. Each company was looking for itself to see whether this could happen to them, what they could do about it. This all contributed to a will to see that something better for the future could be evolved." Both Inquiry teams should therefore build on Cullen and establish up a process for the successful implementation of their recommendations and so ensure lasting change. Failure to consider the implementation of recommendations during the Inquiries could severely limit their impact.
Gill is now maintaining a close interest in both inquiries with a view to ensuring that they establish a 'no blame space', that sensible lessons are learned, and that their recommendations are actually implemented. If you would like to keep in touch with her activities and/or help in any way, please drop her an email at gillkernick@msn.com
Complexity
I suspect that Dan Corry identified an interesting issue when he blogged as follows:
'One of the things which struck me was the amount of complexity which surrounded both the cause of the fire spreading so fast and the subsequent attempt to look after survivors in a decent way. There were multiple agencies, regulators, commissioners, providers, subcontractors and suppliers involved and, in the end, finding out where it all went wrong is going to be tricky. For the follow up there seemed to be a vacuum between the local council, the tenant management organisation and the national government with the local charities and community groups wanting to feed into something but finding no one willing to step up. Some of this is incompetence and neglect or worse and heads have rolled. But it also points to another issue - are we making things too complex?'

Prosecution?
There were immediate and understandable calls for those responsible for the building to be prosecuted, including on manslaughter charges. But prosecution would not reduce the chances of future similar disasters. (It might also seriously impede the Grenfell Tower Public Inquiry, and Dame Judith's Inquiry into building regulations and fire safety,, as those threatened with prosecution will be very reluctant to speak freely or at all.)
The truth is that no-one seriously thinks about the risk of prosecution when making construction or regulatory decisions, so prosecution cannot act as an effective deterrent to poor decision making. As Gill Kernick has pointed out (above), the cultural issues and the competing tensions are very complex and can only be addressed via better regulation and enforcement.
The 'prevent or punish?' question is important in many regulatory areas and a longer discussion is here.
Judges and Public Inquiries
I can understand why many doubted whether retired judge Sir Martin Moore-Bick could possibly understand the pressures and problems that Grenfell residents faced either before or after the fire. He was after all an elderly, white, double-barreled knight of the realm with a posh accent and patrician bearing. And the manner of his appointment, without any prior consultation, or even exposure to the bereaved and dispossessed, was crass and extremely insensitive, made much worse by the fact that the inquiry's terms of reference had yet to be decided, so that he could not commit to inquiring into all the residents' concerns.
But the inquiry does need someone who is very good at sifting evidence, seeing through weak arguments, forming sensible judgements, and making clever barristers stick to the point - and to pre-announced timetables. Judges are very good at this whilst non-judges come under huge pressure to defer to expensive lawyers who will take every opportunity to claim unfairness, and in particular claim that they need much more time to put their case and consider unwelcome evidence and arguments. My own experience both as a civil servant and as a regulator suggests to me that Sir Martin will do very well - and our collective experience of the Chilcot Inquiry tells us that inquiries led by non-lawyers can produce thorough reports, but only after horrendous delay. This inquiry is going to be very hard fought by those likely to be criticised, and needs a fearless and experienced guiding hand.
Residents and other stakeholders do of course need to be effectively represented by expert advocates that they can trust - but that needs to be organised separately. It has therefore been good to note that there have been generous offers of legal support.
(Gordon Exall's civil litigation blog makes the same point rather more effectively: http://www.civillitigationbrief.com/2017/07/10/judges-fact-finding-and-grenfell-the-crucial-question-is-this-judge-a-good-fact-finder/ )
Gill Kernick's Interview
'Today' Radio 4
16 June 2017
Matthew Price (Interviewer)  You were in some of those Residents Associations meetings of the Grenfell Tower. We know that people were expressing their concerns. How do you feel now about the way in which the residents conducted themselves in those meetings? Do you think they did everything they could to get their concerns across?

Gill Kernick   ... there was one particular meeting I went to which was just where they were talking about the refurbishments. And the residents were very angry. I was a resident at that point, very angry, and in my experience the TMO was really not listening to their concerns. It was a very aggressive meeting. And one of my big regrets is at the time I thought this is not right. And in subsequent interactions with the TMO, because I now live in Trellick (MP in the nearby tower block) I've thought 'I need to do something, because this is not right'. The relationship between the management and the residents is not right.

MP  The TMO is the tenancy management organisation which says it is aware of concerns and that at the moment is focused on the immediate needs of people here and will be looking at the long term implications. Your work, you work, you know about large scale disasters, you work in high hazard industries like oil and gas to try and make sure accidents don't happen. Are there lessons that can be drawn from your work with those oil and gas industries that you think might make sure that an accident like this can't happen again? What needs to be done?

GK  Yes, I think first, .... it's been quite difficult looking at this from a professional perspective as I think there is a lot of lessons that could have been learned that weren't. I think there's two that particularly stand out for me. Number one is in major accidents you typically find cultures where people do not feel free to speak up or are not heard and from what we're hearing there is a clear link to that. The residents were not listened to and were not responded to or taken seriously so I think that is one thing from a cultural perspective that's common in a lot of major accidents. I think another thing is we have to get beyond the blame to the systemic and cultural and leadership issues that actually led to decisions being made. So if we just end up going, oh well, it's because of the cladding or it's because of this, and yes we need to hold people culpable for what they've done but there's broader systemic issues that need to be addressed.

MP  Meaning that there needs to be greater communication and channels of communication?

GK  Greater communications, channels of communication, we need to begin to understand what kind of competing tensions people are facing. You know, why did they choose the cheaper cladding not the more expensive cladding? What do you need to do to create a culture and a system that is founded on true care? How do we take care of our people? Not how do we follow rules or save money.